#105-12031 Horseshoe Way, Richmond, BC V7A 4V4, Canada
Ring Wave Surge Testing Services in Canada
Normally when a surge enters a structure, its remarkably close to combination Ring Wave surge (1.2/50µs or 8/20µs). However, by the time it travels over a length of mains cables and around the structure, the waveform dramatically changes – the current decreases and transforms into a decaying 100kHz wave show below.
This phenomenon also occurs when surge goes through the filter which causes the coils to 'ring' at the circuit's resonant frequency or caused by switching of electrical networks, reactive loads, power-circuit failures, insulation breakdown or lightening in low-voltage cables.
IEC 61000-4-12 defines the test setup, test levels and procedure to perform the ring wave surge test.  Ring wave surge generator at INTL Inc. can perform testing as per IEC 61000-4-12 up to the test level of 6kV.
Ring Wave Surge
Output voltage
0.2 ~ 6kV
Oscillation frequency
100kHz
Polarity
Positive/negative/alternating
Impedance
12Ω, 30Ω, 200Ω
Rise time
Current rise time≤1μs voltage rise time≤ 0.5μs ±20%
Phase
0 ~ 359°synchronous, asynchronous, automatic
Coupling/decoupling network
Built-in, single-phase three-line, 16A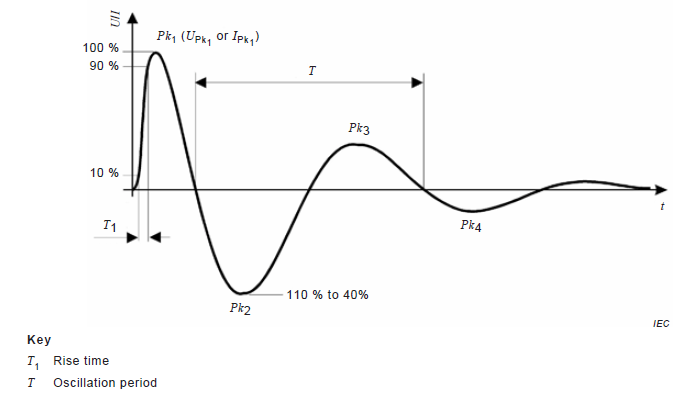 Why International Testing Laboratory Inc.?
At International Testing Laboratory Inc., we make it a priority to ensure that our customers meet their certification and inspection requirements in a timely manner. Accordingly, we are available to hear from our clients 24 hours a day, 7 days a week.
International Testing Laboratory Inc. is accredited by the Standards Council of Canada (SCC) as an Inspection Body (ISO 17020) and Certification Body (ISO 17065). Additionally, we are accredited by the American Association of Laboratory Accreditation (A2LA) as a Testing Laboratory (ISO/IEC 17025). Both of these accreditation bodies are ILAC Signatories. International Testing Laboratory Inc. is therefore lawfully authorized to approve and label various products installed in unclassified and hazardous locations through evaluation of their electrical safety.
To acquire a quotation or for more information, please contact us at info@intertestlab.com. For additional assistance, you may reach us by phone at 604-238-5060.
Battery Testing and Certification Services in Vancouver, BC, Toronto and other parts Canada and US.